In the past few years, many schools have been using educational technology to help their students learn. The use of these technologies has grown exponentially in recent years and is continuing to do so. Read on to know how much it costs to Build an Ed-Tech App and the free features that you add to your educational app.
Educational technology can be defined as the use of information and communication technologies in education. These technologies are used by teachers and students alike to help them learn. Some examples include digital textbooks, online videos, and interactive whiteboards. One example that is becoming more popular is virtual reality (VR) for education purposes. VR allows children to experience places they would otherwise not be able to go or see themselves without leaving the classroom.
How it pays off today: There are many benefits that come with educational technology for both teachers and students. These benefits include increased learning efficiency through.
How Can Ed-Tech Apps Really Help?
The ed-Tech industry is evolving, and with it comes new opportunities for educators to teach.
The ed-tech apps that are being used by students and teachers today can be a great way for students to learn about technology and how it works. However, these apps can also be helpful in teaching students about how to use technology responsibly as well as help them understand the dangers of technology addiction.
Some ed-tech apps are also helping educators by providing tools that allow them to track student progress or even create their own assessments.
Read Also: Build a Mobile App Using React Native From Scratch
How Much Money Does It Take to Build an Educational Ed-Tech App?
This is a question that many entrepreneurs have asked themselves. The answer to this question depends on the size and complexity of your app.
For an app with a few hundred users, you might need to invest between $10,000 and $50,000. For a large-scale app with more than 100,000 users, you might need to spend around $100,000.
How Do You Know if Your Education App Idea Is Worth Pursuing?
An education app is a great idea if it takes your unique skills and combines them with the latest technology to create something that helps people.
To find out if your education app idea is worth pursuing, you should do some research on how education apps are trending and how they're used. You also need to talk to potential users of the app and see what they want from it.
You can also look into the competition for ideas. If there are already a lot of similar apps in the marketplace, then you might not have much of a chance in getting your app noticed.
Education apps are one of the newest trends in technology and business. They provide an opportunity for anyone with an idea or skill set to create something that will help people learn new things or improve their skill sets.
Free Features That Help Boost User Engagement in Education Apps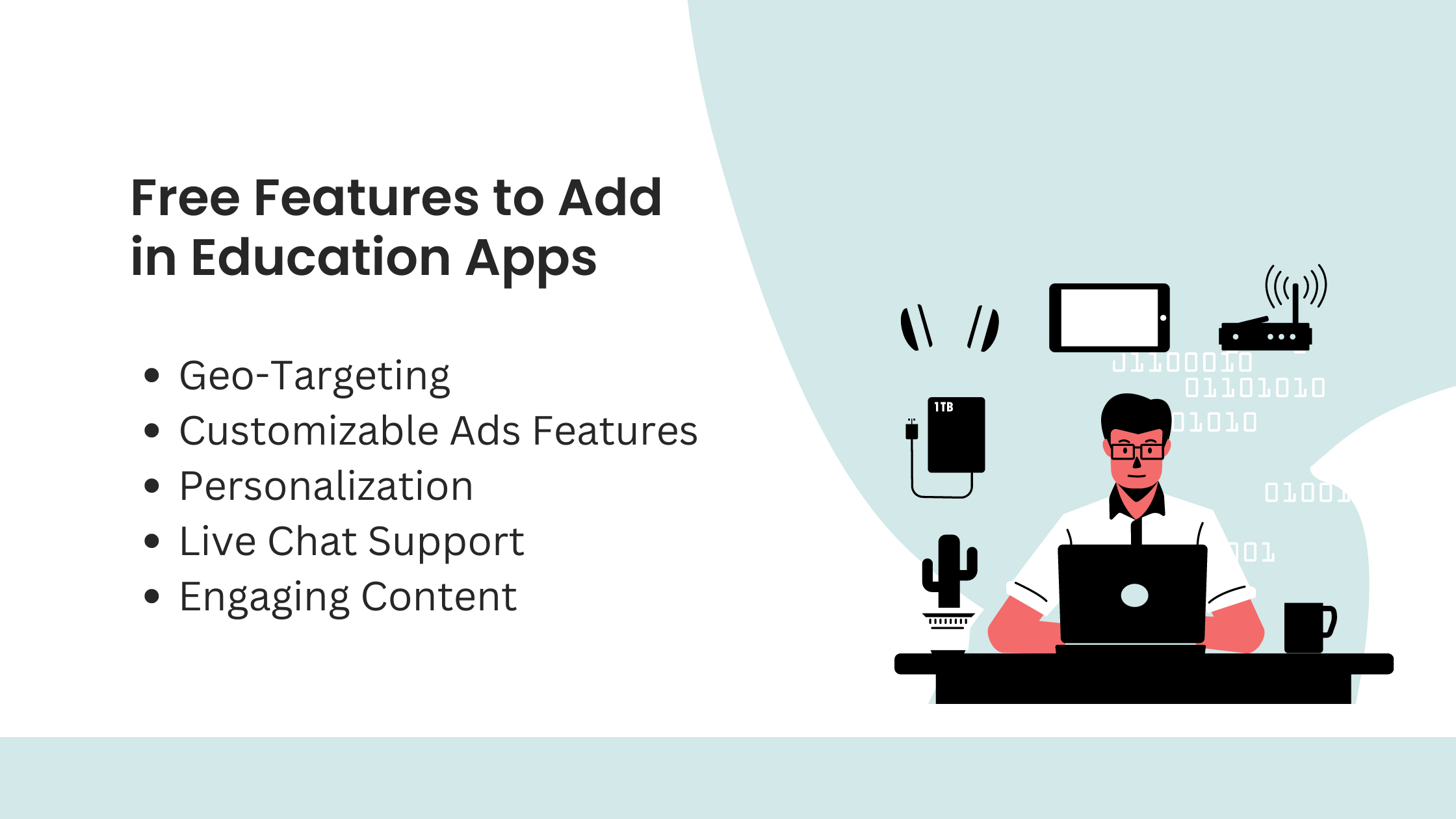 Some of the free features that can help boost user engagement include:
Geo-Targeting
With the rise of social media, it's important for businesses to use features that can help boost user engagement. One feature that can help boost user engagement is geo-targeting. Geo-targeting is when advertisers show ads depending on what your location is. For example, if you're sitting in New York City, you would see ads from New York City businesses. If you're in North Carolina, you would see ads from North Carolina businesses
Customizable Ads Features
With the increase in technology, advertisers have been able to use ads that are tailored to your interests and preferences. This is made possible through the use of advertising algorithms. Custom ads are an important feature that you can add to your app for free. It makes users stay engaged and they'll be more likely to use your app in the future.
Personalization
Personalization features are proven to be the best way to boost user engagement. With these features, companies can show ads that are personalized for you and your interests. Now, more than ever, companies need to consider personalization in order to stay relevant with users.
Provide Live Chat Support
Live chat provides a way for Boost users to have an instant conversation with our experts, solving any questions they might have to improve their website experience.
Create Interactive and Engaging Content
People are increasingly looking for ways to create a better experience with their websites or app. Web pages and apps must be able to show users how they can interact and engage with the content. Engaging content increases user engagement and allows them to stay on the site longer.
Read Also: Scope Of On-Demand Service Apps and Its Market Trends
Recommended Pricing Strategies for Educational Apps
Pricing is one of the most important and complex aspects of any app. It can be difficult to figure out how to price your app, especially when you're just starting out. App pricing will likely never be easy, but there are some best practices that we can use to make it easier. Here are the three most important things you should consider when setting your app's price.
The Base Price of Your App Should Be Close to the Cost of Development. If you're just starting out and trying to figure out how much your app will cost, use what you've already paid for development as a baseline. This is only a good starting point, and you might want to make some adjustments based on the quality of your app.
Try to Charge More for Apps that Provide Greater Value. If your app provides value beyond simple entertainment, try to charge more than the cost of development. This sounds obvious, but it's really not as easy as you might think.
Make Sure You're Charging Enough for Your App and That It Doesn't Have Any Major Flaws. If you can't afford to charge more than the cost of development, make sure you're charging enough. Make sure it runs smoothly and that it contains no major flaws in functionality.
You Should Consider a Subscription Model for Your App Rather Than Just Selling It Once. When developing an app, consider whether or not you might want to offer a subscription model after development is complete.

Build an Educational Ed-Tech App With GraffersID
GraffersID is a mobile app development company that has helped numerous organizations create apps that help users learn. By using the GraffersID app, you can manage how your students use the app and which features they have available for them. Maintain an Educational Ed-Tech App Keep your students on the app and keep them engaged with the GraffersID platform. You can create courses, assign tasks, and monitor their progress.