User interface and visitor experience (UI UX) design are crucial in web development since it is one of the first things users see and interact with when they visit a website. It is necessary to develop user interfaces that are not just intuitive but also easy to use and aesthetically pleasing. Interfaces that are poorly designed can cause users to become frustrated, resulting in lost sales.
The user interface and user experience are equally essential since they can affect a website's entire user experience. A user's ability to navigate a website can be slowed down, and they may have a more challenging time finding what they are looking for if the menus and buttons are not well structured. Inadequately constructed forms can also result in the loss of data or the introduction of errors during the data entry process.
Because it can affect the company's bottom line, UI/UX design is very significant. A poorly designed interface might result in lost sales and frustrated users. We can assist our visitors in navigating our websites and locating the information and items they are looking for by building interfaces that are simple to use and visually appealing.
A Primer on Information Technology
People frequently get web development, web design, user interface design, and user experience design confused. See the glossary entries below for a clearer picture of the differences between the two.
Web development
Web development is the term used to describe all of the work done behind the scenes to ensure that a website functions correctly, loads quickly, and performs well in general.
Web design
Web design is an overarching term for developing and maintaining websites and encompasses various subfields and abilities. Web design includes many disciplines, including user interface (UI) design, user experience (UX) design, and others.
User Interface (UI)
User Interface design development improves a user's interaction with a website or app to make it as efficient and reliable as possible. The "User Interface" is the name for this part 
User experience
User experience, often known as UX, refers to creating and enhancing the quality of the knowledge that users have whenever they interact with a website or mobile application. A website's user experience (UX) can determine whether or not the website is successful.
UI/UX Design's Most Important Elements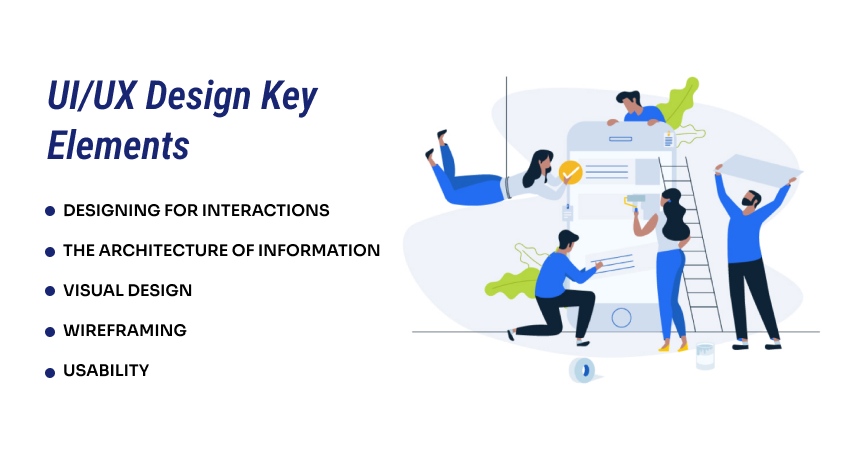 Find out what the most important aspects of UI and UX design are by reading on down below.
Designing for Interactions
IDX stands for interaction design, which refers to the process that groups go through to devise websites and applications that offer visitors experiences that are pertinent and important to them as users. It involves including several aspects, such as typeface, music, colors, images, aesthetics, and more, in your website or application. To construct websites that are valuable to users, design is critical; we will go into more detail about this topic later.
The Architecture of Information
The process of determining how to organize the many components of something in a way that makes it easy to comprehend is called "information architecture." The user experience (UX) construction outlines how the material on your website will be layered and organized.
Visual Design
The term "visual design" refers, as its name suggests, to how the website's visuals appear to visitors. Its purpose is to enhance the visual attractiveness and usability of the website or application. In most cases, the emphasis is placed on aspects of website design such as white space, photos, videos, typography, color, and iconography seen on the website.
Wireframing
Wireframing is a term used to describe the process of designing the structural components of a website. Before your website is made public, you can use it to evaluate its functionality, look, usability, and features using the staging environment.
Usability
When referring to a website, "usability" refers to how user-friendly the webpage is for the people who frequent it. A website is said to have strong usability if it prioritizes essential components of the user interface. These factors include a practical design, a fast load time, simple operations, a unique style, and easy navigation, among other things.
Metrics to Assess the Quality of the User Experience (UX)
Let's have a look at some of the basic parameters that are used when evaluating a user's experience with a product before we discuss the primary reasons why UI/UX is essential during the app development process:
Metrics of the Users:
The Rate of Adoption

The Retention Rate

The Rate of Conversion
Metrics Regarding Usability:
The proportion of Completed Tasks

Task Time

The rate at which mistakes are made, and

The Rate of Giving Up
Metrics Relating to Attitudes and Behaviours:
Usability Rating of the System (SUS)

Questionnaire Concerning the Standardization of the User Experience for the Percentile Ranking (SUPR-Q)

Usability Metric for User Experience (UMUX) – focusing on effectiveness, efficiency, and overall satisfaction

Net Promoter Score (NPS), a metric used to evaluate customer commitment
You may also use the Technology Acceptance Model to evaluate the behavioral components of the user interface and user experience.
A sense of perceived usefulness can "improve their performance on the work."

The user's impression is that using the product requires little effort.
5 reasons why UI/UX is important to the success of any web development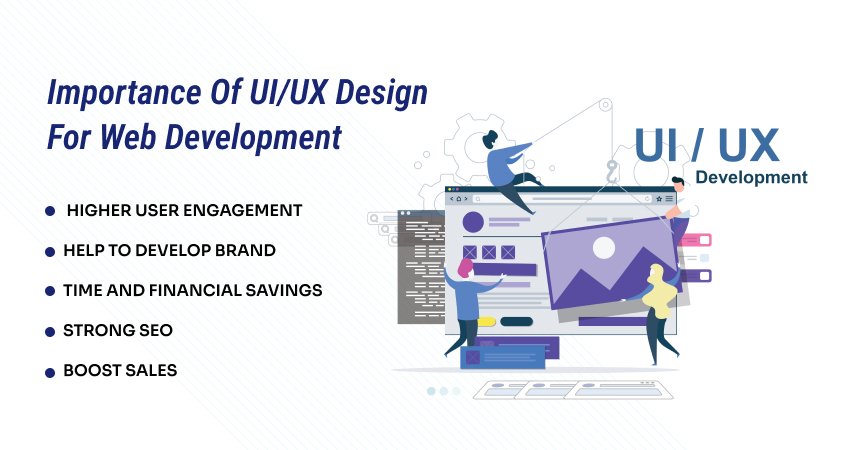 Understanding the significance of user interface and user experience design in the creation of a successful website
Now that we have that out of the way, let's discuss the importance of user interface and user experience design to the overall success of web development. Please take a moment to learn the top five reasons why it is significant.

It contributes to a higher user engagement on your website.
The incorporation of graphical components into a website is made possible thanks to the contributions of both the user interface and the user experience. These elements provide the website visitors with the ability to navigate through the web page. 
If the website's visitors do not find the page they are viewing to be fascinating and engaging, they will likely leave the website and go to one of its rivals instead. On the other hand, websites that are visually appealing and straightforward to browse are more likely to persuade users to spend more time on the site and investigate the products and services the business offers. 
In a nutshell, an effective UI/UX design results in increased user engagement, which in turn generates a more significant number of prospective leads, which ultimately increases income and brand awareness for your company.
It contributes to the development of your brand
Customers are more likely to be content and pleased with a website that strongly emphasizes user interface and user experience. People will always be more drawn to companies and brands that emphasize providing a positive experience for their customers. 
Additionally, if you let your consumers have their say and ask for their input on how to improve your website, you'll be able to pick up on any niggling problems they're having and fix them for the next time they visit. Increased reputation for your firm means more trust from satisfied customers. The long-term success of your company can be helped along in this regard.
It results in time and financial savings.
Suppose you invest once in your website's UX and design. You'll lower the probability that clients will submit formal complaints against you and the frequency of website upkeep and updates. Frequently updating your website takes time and resources. 
If you focus on efficient website construction from the start, you can save time, money, and effort to utilize it elsewhere. Before starting a website, research user design and interface needs. If the problem arose after the product was released, the cost would be multiplied by ten, to a minimum of $100. User experience design can save money in product development.
An effective UI/UX design helps with search engine optimization
Website success depends on keyword rankings' design and SEO work hand in hand, and both are highly crucial factors in boosting a website's position in the search results displayed by Google. Providing information to consumers in a time-efficient and uncomplicated manner is the primary objective of the search engine. 
Search engines consider various data points to measure the level of user interaction. A fast page load speed, mobile responsiveness, and a user-friendly URL structure are all essential aspects of a robust user experience design. They all contribute to an efficient search engine optimization approach.
User experience design boosts the number of sales made on a website.
There is a large number of websites that all provide the same items and services. Customers are most likely to select a website because of its appealing appearance and user-friendly experience. 
According to the findings of a study, an improved user experience can increase conversion rates by up to 400%. Additionally, as noted earlier, accessibility and usability that have been adequately optimized can significantly impact the level of happiness experienced by customers. 
Furthermore, a website that emphasizes the significance of user interface and user experience design may also boost a user's propensity to explore the products offered on the website. That is why it's crucial to hire skilled UI/UX designers to grow your company and increase conversions.
Which of these two—UI or UX—is more important?
When designing websites and apps, user experience (UX) and user interface (UI) are both extremely important. As they contribute to the whole, neither one can be ignored in favor of the other. Developing a user interface without also developing the user experience (or vice versa) would result in the following issues:
A website that is simple to access but does not deliver a positive experience for its users through the usage of graphic components.

A website that is appealing to the eye and has high-quality images but does not load its pages quickly and does not have well-organized content.

To use a coin metaphor, user interface design, and user experience architecture are opposite sides of the same coin. As a result, the two aspects have an exact amount of significance when it comes to the production of efficient websites.
An outline of Hire UI UX Remote Developers in the most basic form
Hire UI UX Remote Developers to create an intuitive design for your software, websites, and applications. Hire UI UX Remote Developers who provide a comprehensive range of wireframe design services and use the most up-to-date technologies and methods to produce online and mobile applications with beautiful branding. 
Employing user experience designers and user interface designers who are specialists in their fields will help you establish the tone of your brand and build the designs in a strategic way. Hire UI UX Remote Developers who create mockups for your websites or mobile apps according to your demands, considering every minuscule aspect, from color matching to brand identification.
Why is UI/UX Design so important for a business's growth In 2023?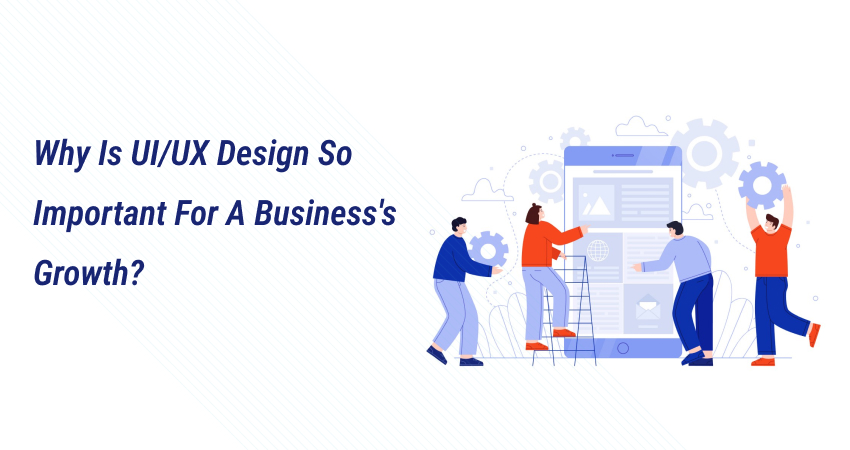 If you are in the process of developing a website for your company, one of your primary goals should undoubtedly be to boost customer participation, sales, and recognition of your brand. On the other hand, this can only be accomplished in its entirety if the users who visit your website have a pleasant experience overall. 
When it comes to the success of an online business, ensuring that the customers are happy is essential. Because there is a lot of competition in the internet market, your website must be noticeable. The user interface design of your website should be powerful enough to capture the interest of your customers and convince them to continue using your website. 
Consider this: if you were shopping for products and services online, which company's website would you choose: the one that has a user interface design that is helpful and allows you to find what you're looking for quickly, or the one that is unresponsive, difficult to use, and slows down the purchasing process.
How Does Website Design Impact Your Search Rankings?
By now, most business owners understand the importance of digital marketing and they have started investing on it. And undoubtedly, SEO (or search engine optimization) plays a major role in brand perception, traffic, and overall sales. Having the ability to appear prominently in Google search results holds a lot of power, which is why investing in SEO makes a lot of sense.
When you hire an agency that works with a white-label SEO company, you may be focused on creating valuable content and showing how relevant your site is to both internet users and Google bots.
But if you want to rank well in search engine results pages (SERPs), you need to do more than write stellar blog posts or pick the right keywords to target.
The truth is that the experience your website provides matters a lot. In fact, it won't really matter how perfectly optimized your content is if web visitors become frustrated or confused when they arrive on your site.
And in most cases, this frustration and confusion can be traced back to bad website design.
To improve your website UI UX design prototyping, you can consult GraffersID: a web and mobile app development company.
Consequences of Bad Web Design
The internet is always evolving, which means that search engines have to constantly play catch-up in order to provide the best results to users. In the early days of the web, site design wasn't nearly as sophisticated as it is today. (We all remember those garish websites that look like they were created in Microsoft Paint!)
But now, web users expect that the sites they visit – and the brands they support – will provide an impeccable experience from start to finish. If these expectations aren't met, your business could struggle as a result.
Simply put, customers will abandon your site if your user experience (UX) is poor. Amazon Web Services reports that 88% of online shoppers won't return to a website after having a bad user experience. Other data shows that around 70% of online businesses that fail do so because of subpar usability.
What's more, around half of all consumers say that poor mobile optimization annoys them and that they're less likely to engage with companies that fail to optimize for mobile accessibility. Considering that approximately 50% of all web traffic now comes from mobile users, you'll end up driving away a significant portion of potential customers if you don't provide a great website experience across all devices.
Customers will decide whether they like your website within just a few short seconds. That means you have very limited time to capture a user's attention and make a positive impression. And if you don't impress human users, you'll have a tough time convincing search engines to like your site.
When visitors depart your website en masse, that's a red flag to Google. Typically, a website that features poor design will have a higher bounce rate, slower loading speeds, interactivity delays, a lack of site security, intrusive interstitials (like full-page pop-ups), and accessibility issues for mobile users.
Since all of these elements are also among Google's ranking signals, that means that poor web design can have a huge impact on your site's ability to rank well in search results.
In the end, poor web design can hurt your ability to connect with customers and adhere to Google's best practices. Both issues can keep you from achieving your ranking goals. And while there are certainly other important aspects to SEO, your other efforts won't pay off if you don't have a solid website to start with.
Good Design Can Translate to Great Rankings
Of course, the reverse is also true: having a good web design will make it more likely for your site to rank well in SERPs. That doesn't mean you won't have to worry about the thousands of other ranking signals, but providing a great user experience is something that Google and web users find extremely valuable. UI UX design prototyping will make it much easier for you to make ranking progress.
Generally speaking, good web design is both visually appealing and user-friendly. It should be both attractive and functional. Assuming all other factors are relatively equal, Google will usually reward sites that are speedy, accessible, and easy to navigate.
Read Also: 5 Design and Development Tools for Remote Team
That's especially true with one of Google's latest algorithm changes. After about six months' notice, the Page Experience update launched in early June 2021. This update involves, among other things, Google's new Core Web Vitals; these measure specific criteria that determine the quality of the user experience on a given page.
Whether you're doing a major website overhaul or you just want to make a few impactful changes, you'll want to keep the Core Web Vitals in mind and make sure your site adheres to current design best practices. But what exactly should you change to improve your chances of ranking well in search?
Web Design Improvements to Make For Better SEO
While most web users will want to visit sites that load quickly, are easy to navigate, and that are attractive to the eye, nailing down exactly what that means for your design can be tough.
In order to make the changes that can boost your rankings, you'll need to understand the essential elements of UX – or what makes a great user experience – and what Google wants to see.
With that in mind, here are some web design improvements you can make for better SEO.
1. Keep Things Simple:
When it comes to website navigation, you should err on the side of simplicity. Although you might be tempted to prioritize how your website looks, your design choices shouldn't come at the expense of user experience.
If you force website visitors to hunt for the information they need, they'll probably give up.
Your website menus should be easy to access and understand, while your URLs should be as straightforward as possible. Adding a search bar on all pages is also recommended!
Read Also: Here is the Difference Between UI and UX Design 
2. Speed Up Loading Time:
No one wants to deal with a sluggish website. If a page doesn't load within two or three seconds, it's game over. When working with a web designer, discuss the ways in which you might be able to speed up your site's loading time.
This might include compressing or eliminating large images and video content, using browser caching, getting rid of outdated plugins and scripts, improving server responsiveness, or keeping page redirects to a minimum.
Even the tiniest of delays can have adverse effects on your site conversion rate, so make site speed a priority.
3. Appeal to Mobile Users:
As we hinted earlier, a site without responsive design is essentially useless to around half of all web users.
Your site needs to be easy to read and navigate on mobile devices while providing a consistent overall experience for all users, no matter what they're using to view your pages.
Since Google actually indexes the mobile version of websites first, your rankings will depend on your ability to meet the needs of smartphone users. If your site is virtually inaccessible on anything but a PC or desktop, you need to revamp it right away.
4. Eliminate Errors:
Navigation errors (like 404 pages) are common, but that doesn't mean they're acceptable. These errors tend to occur when a page has been deleted or there's an issue with a page's URL.
Ideally, you'd want to eliminate any and all 404 errors that exist on your site – but that's a tall order. In some cases, they can pop up purely due to user error.
Still, you should try to fix any broken pages on your website, set up some redirects, and create a 404 error page that's unique and that easily allows visitors to find what they're actually looking for.
Want to Develop and Design your Website? Consult US Now
5. Rethink Your Pop-Ups:
In years past, pop-up ads were villainized (and rightfully so, in most cases). But while you should completely steer clear of those spammy pop-ups, there are certain kinds of pop-up windows that can be effective for your site's lead generation strategy.
You probably encounter websites every day that use pop-ups, but it really comes down to the frequency, the timing, and the type of window.
Keep your site's pop-ups to a minimum, delay their appearance for at least the first 10 seconds, and make sure that your pop-ups offer some kind of value to the customer (like a discount or an exclusive offer).
6. Follow Visual Design Principles:
Functionality should be your chief concern, but that doesn't mean that aesthetics should be thrown out the window. One of the factors of UI design is that you should eliminate unnecessary clutter.
A clean-looking website with ample white space and contrasting colors will go a long way. Make sure that you choose a font and font size that are easy to read across all devices.
In many cases, it's best to utilize an F-shaped layout, as this can guide the reader through the visitor experience on a given page. It's also a good idea to ensure your website is ADA-compliant, as this will ensure visitors of all abilities can get the information they need.
We know that your site's web design can often make or break your ability to rank in search results. But if you know which mistakes to avoid – and how to fix the issues you might currently have – you'll be in a much better position to achieve your SEO goals.
What is offshore development?
An offshore development center is a company that offers software development services to its clients but is physically located in a different nation. This particular kind of business is considered a subsidiary of the primary firm you run. An offshore development center is a business that offers its services or products to customers in a different country. 
Although outsourcing is a service that provides specific services or goods from a third-party company, the physical location of the company providing those services or products may not be an essential consideration. The primary objective of the offshore development center is to assist in lowering the company's expenses by making use of the disparity in the cost of living between the two countries. 
Offshore development centers can offer various services, including the construction of a software development team according to your specifications, project-based development, testing services, and the establishment of an independent offshore development center for individual customers.

The advantages of the offshore development center
An offshore development center has the potential to deliver several valuable benefits. The following are some of the reasons for doing so:
Cost reduction: 
As was said earlier; this is possible since the offshore development center is frequently established in nations with lower living expenses than the nations where the headquarters are situated. They can either shift the primary focus to other aspects or use the cost disparity to lower fees regarding materials and labor while simultaneously growing sales.
Cheaper facilities
Establishing an offshore development center in a cheaper country benefits firms in terms of reputation and sales, as well as office rent, maintenance, and internet costs. Establishing an offshore development center in a much cheaper country's center of the economy is beneficial to businesses.
Extend your market to include a country in another region: 
Doing business in the marketplace of another nation is an excellent method to boost sales volume and reputation, as well as to get closer to clients and better understand the requirements they have. It not only allows you to be physically present in the target market, but it also helps cut down on the costs associated with logistics.
Large group with many different skills
:
If you want to set up a team with more than 50 people, suppliers can set up a separate office for your employee branding where all of your developers, project managers, quality assurance specialists, and marketing specialists will work together.
Access to the Talent Pool:
Having your firm located in a different country gives you access to the talent pool of that particular country, which can enrich your company's working culture and improve your general skills. When prospective employees learn that they would be working in the "office of a foreign corporation," they are more likely to accept the positions.
Improving Confidentiality:
The offshore development center is likely home to several teams concurrently working on several projects. It would help if you approached your offshore development center for a team office as soon as possible.
Localization of products 
An offshore development center is an excellent option to consider if you want to access the international market because it brings your company closer to a particular market but also assists in regionalizing your goods. If you wish to sell in Vietnam, locate your offshore development center there. Since all of your developers are Vietnamese nationals, they can contribute some ideas specific to the Vietnamese market that will help localize your product.
10 Principles of UI Designs For Founders
This guide is from a Founder's point of view to create a good UI Design, rather than a Designer's point of view. The aim is to create a design of the product that makes the user loyal and engaged.
Here are the "10 Principles of Good UI Design"
Design your product according to the market you serve:
The UI for a Music concert website would be significantly different than a bridal e-commerce website.
The color combinations, the icons, the placement of buttons, everything varies significantly with the domain and age group of the target audiences.
Before you start the designing finalize your target audience which domain they belong to (corporates or casuals), which industry they belong to (IT, Retail, education, student, etc. ), and lastly the age group of the users of your application.
This will prove very effective in creating a good UI.
Unless those are your Granny's panties, they don't need to be big or bulky:
Try to keep as fewer features or text on a page as possible. Try to make use of icons to make the features more explanatory with less use of words.
However, by no means do I mean that your users should be left confused and stranded. Customer understanding and the ability to easily transition from one feature to another should be the utmost priority.
Minimalistic design is the new Black. (That goes for Steve Jobs's dressing as well)
Think of your Core idea as a bride in her wedding, very well differentiated:
What makes your application or website really useful is the core idea. That one differentiating factor you have from your competitors is your product's true identity.
Make sure your USP feature is well-focused and differentiated from the other functionalities. It should be most easily accessible.
Don't let your USP get out of focus in the distraction of the generic features. Make it stand out.
Focus on the user journey:
Before starting the UI design form a flow of how the user will navigate on the application/ website. List down the page-by-page journey of the user.
Mention the buttons he would click on each page/screen to reach the desired next page. While designing you can place the spotlight on the important buttons hence making the user easily discover and navigate the application.
The simplicity of the UI in the flow to find the desired page has always been the key to an engaging and successful product.
Avoid Visual pollution:
Yeah, it is actually a term. Good UI design is environmentally friendly. It should make an essential contribution to the preservation of the environment around the user.
The specific environment that you can save here is the visual surrounding of the user using your application or website. Make the user feel at peace and enjoy looking at the screen.
Here is a small test: Once you have the UI design in front of you look at it for 1 minute straight. Now, decide for yourself, how many times did you just feel like turning away from it.
Read More: Here is the Difference between UI and UX Design
Test it before developing it:
Once your UI design is ready, make a prototype of it before starting the development. And share it with real users to test if they find it as simple to use as you thought them to be.
Some of the handy tools, if you don't wanna spend, are MavelApp, Invisionapp. Ready a bit about Guerrilla Usability Testing you have to do it to get genuine user feedback.
Keep taking feedback, practice makes a man perfect and so does the UI design:
Of course, you won't come up with the ideal design on the first go, for multiple reasons. Hence keep plenty of space for your users to give you feedback.
Again, not every feedback is worth implementing. And no need to even keep track of which changes have been requested the most.
If the feature is so necessary and so much in demand, then it will come up most often and would catch your attention. The most necessary feature will stick with you without you making any extra effort.
Be patient, great products aren't built in 1 day:
As a founder, I understand that you are super excited and want to release your product as soon as possible. But a great design takes time.
And trust me, satisfaction is a myth. Because as a human we keep upgrading. Hence, our expectations and new ideas keep flowing in as you enter the design phase.
Therefore, define a deadline and take the best solution you have for the development while continuing to perfect your design and bringing it into version 2.
Designs are not like Wine, they don't get better with the age
On the contrary, Designs in the web and mobile world are changing at a rapid pace. New features and new ways to do old actions are being discovered and implemented every fortnight.
Pick the 3 Apps you use the most which have similar features to your idea, not a similar idea but a single similar feature like notification, newsfeed, etc. Make a list of the features and the reason why you like it in one application over the other.
Just as an example, try to think about how the UI design of the Facebook app has changed in the past 1 year.
Do a facial, not a plastic surgery:
Be ready to redesign your product every year. However, you just want to make small tweaks to your UI designs.
Keep the heart of the application/ website constant, always, unless there is something drastically wrong with it. Users form a loyalty to the UI of the product. If you change it too much you might lose the loyalty of your customers.
Even if you want to change it completely, then change it step by step, slowly, over a period of time. Give your audience sufficient time to accept the changes and become comfortable with the new features and UI of the product.
These are some rules which I had used extensively with my clients across the globe. And we have received phenomenal success, I mean my clients have, client success is our success after all. Some have even won best design awards and been selected in Y-Combinator.
How can UI design principles benefit startup founders?
UI (User Interface) design principles can offer significant benefits to startup founders by enhancing the overall user experience of their products or services. Here's how these principles can positively impact startups:
Improved User Experience (UX):
UI design principles help create interfaces that are intuitive, user-friendly, and easy to navigate. A positive user experience can lead to higher customer satisfaction and loyalty, which are crucial for startups trying to establish themselves in the market.
Increased User Engagement:
Well-designed UIs encourage users to interact more with your product or service. This engagement can translate into more time spent on your platform, higher conversion rates, and increased user retention.
Clear Communication:
UI design principles focus on effective communication through visual elements. Startups can convey their brand message, features, and benefits more clearly to users, helping them understand what the product offers and how it can solve their problems.
Competitive Advantage:
In a competitive startup landscape, having a polished and aesthetically pleasing UI can set you apart from the competition. A great UI can attract users and instill confidence in your brand, giving you an edge in acquiring and retaining customers.
Reduced Learning Curve:
Intuitive UI design simplifies the user learning curve. Startups can save on customer support and training costs as users can quickly grasp how to use the product without requiring extensive guidance.
Enhanced Brand Image:
A well-designed UI contributes to a professional and trustworthy brand image. It shows that your startup cares about the details and is committed to providing a high-quality experience for its users.
Flexibility and Adaptability:
UI design principles include creating interfaces that are responsive and adaptable to various devices and screen sizes. This is essential in today's multi-device landscape, ensuring that users can access and enjoy your product on any platform.
Guidance Through Tasks:
Proper UI design guides users through various tasks and processes, reducing errors and frustration. For startups with complex or innovative products, this guidance can be crucial in helping users extract value from the product.
Data-Driven Iteration:
UI design principles often involve user testing and analysis of user behavior. Startups can gather valuable insights from user interactions and make data-driven improvements to their product, leading to continuous optimization.
Early Validation:
Implementing UI design principles during the early stages of product development can help validate your startup idea. A well-designed prototype can be used to gather feedback and attract potential investors or partners.
Saves Development Time and Costs:
Addressing UI design early can prevent costly design changes down the road. Well-thought-out UI design minimizes the need for extensive post-development revisions, saving both time and money.
Scalability:
As your startup grows, a solid UI design foundation can be easily scaled to accommodate new features and functionalities. Consistency in design elements ensures a seamless user experience as the product evolves.
By incorporating UI design principles into their products, startup founders can create an enjoyable, user-centered experience that resonates with their target audience, drives growth, and builds a strong foundation for their business success.
So what are you waiting for, go to your designer and bring out the best in your application.
7 Ways on How UI Design Could Increase Your Sales in 2023
Before we dive in let's take a moment to introspect. Now think back and ask yourself "WHAT MAKES YOU TRY SOMETHING NEW ?". Like a new YouTube video, a new dress in a mall, or a new eatery around the corner ask yourself.
For me, the reason has often been "THE LOOK" could be the image of the video, the text/tagline on a post, or some innovative interior. Well, it's a fact it happens, sight is a very important sense of the human body and we tend to use it to the fullest.
Hence similarly to a website as well the UI plays a very important role. A beautiful website can easily grab the attention for a few seconds. But what if your website is tough to understand or doesn't communicate clearly? Just good looks but no useful feature can grab your attention but won't be able to hold your interest for long. Exactly the reason why UI and UX go hand-in-hand. UX is the way the user perceives the information you present, it is the way someone interacts with your website. Placement of information, buttons, icons everything falls under UX.
Designing is like cooking!!
You don't wanna rush, it takes its own sweet time to be prepared properly and needs a lot of precession. But once it is completed you can never have enough of it and there are praises from all the corners.
This is pretty much the case with design. Designing takes time because there needs to be a lot of research about the target audience. There needs to be a clear understanding of the age, sex, profession, domain, and taste of the group only then the designer would be able to create something easy to understand and yet beautiful as hell to look at.
Hence, Designing is like cooking, it will take time but once it is done you will be the most satisfied person.
The most well-dressed person is considered to be the most successful one!!
Almost all businesses are now coming online in one way or the other. We are so used to the digital world that often the first thing we do is check the company's website to see the authenticity of the business.
Now imagine you are to do a $100,000 business with a vendor and their website looks like a complete disaster, would you still be equally confident to do the transaction? Not, and this is when you already know about the vendor. Imagine what it would be like if you discovered someone randomly while surfing, you wouldn't spend a second more and put that company on your never-to-do-business-with list.
On the other side, if there is a very well-designed and beautifully built website, wouldn't you be driven to strike a communication?. Pretty sure it's a YES. Well-designed websites give a perception of success and assurance of quality which significantly improves the chances of striking a deal.
You perceive what you see !!
Apple is probably the best real-life example you can have. Apple has minimal features, restrictive usage, battery, and storage issues.  And yet, at the time I write this article, Apple is the #1 company by market value leaving behind companies like Google, Amazon, and Microsoft. It also captures 51% of the smartphone market by revenue worldwide.
The main reason why people love Apple products so much is the UX of the product. Everything is super simple, easy to find, and very convenient to use. Moreover, it has a beautiful UI, Apple design is now the trendsetter and defines the standards.
When people see Apple products they perceive quality, assurance, and value for money. So much so that, arguably, customers are ready to pay double the money to Apple for the same products offered by the competitors.
Each color speaks and helps in placing the brand appropriately with its target audience. It is important because colors will make your visitors feel like they belong here. If they don't feel related they will never buy from you.
Kids websites will be in with bright vibrant colors like yellow, red, orange, etc. Websites with serious content will generally be on a black theme. Girls website will be in pink and the designer's website will be multicolor.
Color also exhibits the motto and culture of the company. Hence this psychological phenomenon helps your customers relate to and understand your company and its ideologies. It helps in creating a brand loyalty
A well-presented dish can taste and cost better!!
Yes, it is true, scientifically said. A well-presented dish affects your taste, moreover, the customers are willing to pay more. This holds even in the WWW industry. The companies whose websites look better are able to charge a higher price for their services and customers are willing to pay it.
The presentation in question is your UI and the dish here is your content. The words that define what you do, who you are, and why you matter? The tone of the text should also be in synergy with the design and color scheme of the website as a whole.
No decoration can cover up for food that tastes absurd, hence the content on your website plays a very crucial role. What will a visitor do if he cannot understand what the website is saying, or if the terminology is too complex to understand? Hence choose your words wisely keeping your target audiences in mind.
You get a second chance only if you can impress in the first !!
Your company first impression is your home page. For the same reason designing your homepage needs the most time and costs almost double in comparison to your other pages
Even on your homepage, it is your Banner, the first topmost segment of the page that appears on the screen, which holds utmost importance in designing a website. Your Banner should very clearly communicate, in the minimum possible words, what the website is about.
The reason to make it bold is the sheer magnitude of importance that this line holds. Make a list of all the things you want your visitors to know about your business now place them in the sequential order of their importance. Design your website around this structure to make sure that you cover all the points in the same sequence as you have marked them.
Designs are like a stunt man, never visible but very important !!
A good design is not too catchy to the eye and emphasizes more on the content and functions of the website. Too often founders start to love the work and want more and more till the website is filled with beautiful stuff all over it. Times too much, excessive design can distract your visitors and can overshadow some of the features of the website.
Make sure your design is built as a base to support your features and make users easily find the next actions and move easily throughout the website. The more time people spend on your website or the more quickly the visitors reach the payment screen, the much better since it will make a business for you.
Hope this will help you in your startup journey. Feel free to drop in emails I read and respond to each one of them. Would be happy to help you make a difference.
Conclusion
User interface and user experience are essential to the success of a website. Suppose you want to design your company's excellent, engaging, and helpful website. In that case, you must be aware of the significance of UI/UX design, as well as the function that it plays in the process of designing websites. 
Outsourcing UI/UX development to professionals is an excellent alternative for companies, as it helps ensure that the entire development process is carried out without any hiccups. Get in touch with us for the best UI/UX design services from GraffersID to produce inspiring digital experiences for billions of users.