There's no doubt that remote work is here to stay. Offering higher flexibility and the needed benefits, remote working has helped several companies grow while cutting down their cost to a significant level. There are several advantages to this kind of partnership for new firms and startups. In order to make the most of this, you must arrange all processes — from recruiting and locating specialists through onboarding and management — in the right way. And, if you are looking to hire remote developers in Germany, you have landed on the right page. Read on to explore the benefits of hiring a remote team and how to hire one.
And when it comes to Germany, Germany is one of the nations with the most sophisticated scientific infrastructure and is home to several well-known enterprises. Despite having an extraordinarily low unemployment rate of less than 5% and a total GDP of $4.31 trillion, the nation has an overall population of 83 million. Additionally, it is the United States' largest trading partner. The country brilliantly managed to resist the COVID-19 epidemic with the introduction of superb methods and processes.
With the development of technology, Germany has emerged as a top destination for skilled people looking for work in a variety of industries. In addition to its fascinating and rich history, magnificent scenery, and cosmopolitan society, Germany is a popular destination for ex-pats throughout the world.
Understanding The Opportunities In Germany 
One of the world's most developed nations is Germany. It is regarded as having the biggest economy in Europe and the fifth-highest GDP in the world. The automotive, chemical, mechanical, and electrical industries are second in importance to the economy and employ more than 6.2 million people. Still, the service sector leads the nation and accounts for 70% of its GDP. Following this, 6% of the country's GDP comes from agriculture, forestry, and fishing. 
Population Count: Over 83 Million
GDP: USD 4.3 Trillion as per 2020 
Economic Overview Of Germany 
Germany is a leader in industrial growth and has a $4.3 trillion global GDP (2019). Despite severe limitations placed on its operations as a result of the COVID-19 epidemic, the nation has maintained its general standing as a worldwide economic powerhouse. The GDP growth rate for 2020 has been estimated at 4.7%, and as the pandemic situation stabilizes, this number will rise in the following years. Over time, the country has also seen a general decline in the unemployment rate.
In the European Union, Germany has both the biggest consumer market and the most extensive trade relationship with the US. The COVID-19 epidemic has had an influence on the whole world, yet the nation's development has not stopped. While the unemployment rate is just 4.5%, the GDP has decreased overall by 10.1% over the previous year, according to statistics from 2020. The most significant industries in the nation are those related to finance, science, health care, and autos.
Industrial Development In Germany 
70% of the nation's GDP comes from the service sector. Additionally, it creates job prospects for more than 70% of the working population. This industry includes telecommunications, banking, and tourism. In addition to being a major financial center, Germany is a top-rated tourism destination that attracts both domestic and foreign investment. 
Additionally, the nation exports goods worth $1,810.93 billion to several countries (2019). 41% of the nation's manufacturing output is used by the export industry. This covers the export of machinery, transport, drugs, electrical equipment, and other items.
In addition, the authorities support a wide range of research. There are opportunities for students to do their doctoral research, and many of these initiatives get governmental funding. As a result, the gap between theoretical knowledge and practical application has been closed, and the general public is now more open to scientific ideas. 
Additionally, this nation was the first to adopt the Energiewende method of producing renewable energy. Here, a lot of the big businesses are family-run. Among the 53 other global corporations headquartered are Allianz, Daimler, BMW, Volkswagen, Fortune Global 2000, and others.
Frankfurt is home to the stock market of Germany, a polycentric nation. The major media corporation, Bertelsmann SE & Co. KGaA, is based in Gutersloh, as are the most prominent automakers.
Frankfurt is home to the stock market of Germany, a polycentric nation. The most prominent media firm, Bertelsmann SE & Co. KGaA, is based in Gutersloh, while the biggest automakers are in Munich (Audi and BMW), Stuttgart (Mercedes Benz), and Wolfsburg (Volkswagen).
Bayern and Baden-Wurttemberg have the lowest unemployment rates, with about 3.7% and 2.1%, respectively)
Understanding the German IT Landscape
Before you start the hiring process, it's crucial to understand the German IT landscape. Here are some key insights:
Germany is known for its strong emphasis on quality and precision in software development.
Major cities like Berlin, Munich, and Hamburg are tech hubs with a concentration of IT professionals.
The country is home to numerous startups and established tech companies, offering a diverse talent pool.

Who Are Remote Developers? 
Despite being team members, remote workers communicate with it remotely, unlike office workers. They can even not know the employers directly and come from distant nations. This kind of connection is frequently connected to freelancing. However, every full-time employee has the option of working remotely. 
The only thing separating a vendor-offered developer from an in-house employee is their location if a freelancer is a specialist who only completes the agreed-upon amount of work inside the project. 
Let's get the primary point straight first; then we can discuss the distinctions between these sorts of specialists in greater detail later.
In the post-pandemic environment, this distinction is less clear, and remote developers from companies like EPAM Anywhere Business with proven procedures for markets lacking in tech expertise are appreciated more for their reasonable prices with the same or even higher skill set. That's not all, either.
Why Hire a Dedicated Remote Developer in Germany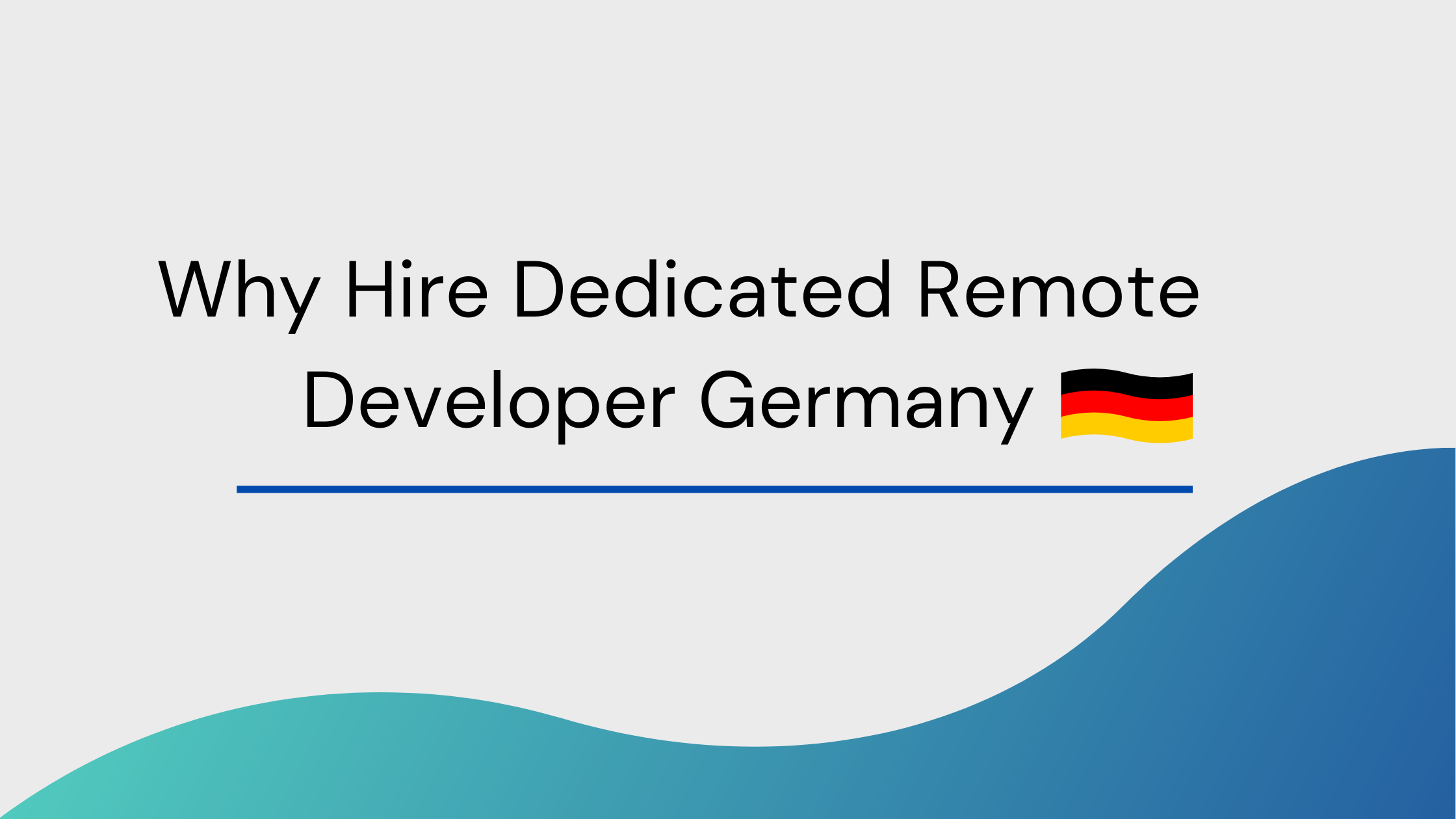 Searching for remote developers has several apparent and well-known benefits. Some of them, meanwhile, are a result of global processes and market shifts. Let's examine the advantages of using offshore developers that the pandemic has brought about.
Higher Flexibility And Better Collaboration 
Companies all across the world have been compelled by COVID-19 to restructure their workflows, use flexible methods of communication with their staff, and search for other ways to grow their teams. While keeping employee productivity high is always a key goal, it is now more crucial than ever to prioritize team members' safety and well-being. 
Software firms, therefore, have some difficulties in finding the proper balance between preserving team effectiveness and establishing the ideal working environment where employees won't compromise their health. And it goes without saying that the biggest challenge in assuring productivity is the challenge of monitoring the efficacy of remote workers.
Many of the problems brought on by the global pandemic in terms of economics and effectiveness can be resolved by hiring a remote crew. You may recruit devoted remote developers from a cutting-edge, reputable outsourcing firm by using this collaboration approach. 
There are two ways to get started. The whole project can be delegated to a remote team, or offshore experts can collaborate with your in-house engineers on it. Whichever model you select, you will have complete control over every procedure and be able to direct the whole crew. The critical thing is this.
Access To The Right Technology 
In the context of worldwide shutdowns, the pandemic has also had an influence on the productivity of businesses throughout the world. And because of this, it is now challenging for IT companies to compete in the market. And assembling the ideal remote staff might aid businesses in raising their performance indicators. 
Since they have the essential expertise in managing distant processes and working on a wide range of projects, hiring offshore developers is a perfect answer in today's globalized world. The most crucial aspect is that they have all the tools and technology needed for virtual project management.
Given that they have been planning their work strictly in accordance with such a business model for a long time, all of this enables them to collaborate remotely no less successfully.
Better Adaptability To Ongoing Trends 
The epidemic has demonstrated that being able to swiftly adapt to changing circumstances, keep up with global trends, and move at an extraordinary pace are essential for economic success. All of this helps with the primary goal, which is to guarantee client focus and provide the most excellent quality of service. Businesses must now seek fresh approaches to deliver high-quality experiences once more. 
One of these contemporary options is the usage of digital channels to keep business operations running smoothly and continuously in accordance with COVID-19 scenarios. 
Every aspect of our life has been impacted by the epidemic, which has also substantially altered user experience and consumer behavior. We have changed the way we think, speak, and behave.
Want to hire remote developers in USA? Hire Now Here!
Higher Profitability Through Better Opportunities 
Businesses in the IT sector must react swiftly and be continually on the lookout for fresh possibilities in the face of the global crisis. Every business should consider outsourcing development since it is the only way to find an instant answer to the issues related to short-term cash. 
You can really boost profits because of this. Additionally, this is crucial. Each choice directly affects whether the firm will actually survive in the current market.
Global Access To Talent Pool 
Our capacity to travel has been severely constrained by the COVID-19 epidemic. People increasingly find it more challenging to enter other nations, especially for business. Additionally, utilizing offshore workers enables the removal of this geographical restriction. Collaboration may now take place remotely and be both productive and successful. Having access to a global workforce has always been significant, but these capabilities are now crucial for bolstering the team with the proper talents and skills.
On the other hand, new technology may make it necessary to recruit experts with the appropriate abilities, which may necessitate access to a talent pool of specialists. So, for instance, the growth of the Internet of Things and artificial intelligence encourages companies to use these cutting-edge technologies as effectively as feasible. Finding the appropriate professionals becomes very important at this point. Finding the best IT talent is a complex problem for businesses throughout the world. 
Additionally, you may engage remote developers to help you resolve this problem. As a result, you may avoid the fees and other challenges associated with locating and hiring your own specialist. Global access entails remote employment.
It's The Future 
It all comes down to the reality that every organization is being forced to hunt for new working models due to the changes brought on by the epidemic. Additionally, many businesses are still unsure of their goals. Thus they are unable to develop solutions to lower risk quickly. 
The most incredible opportunity to strengthen your market position by establishing a long-term partnership with a cutting-edge remote development team is right now. This will enable the adoption of offshore enterprises' experience, which can then be leveraged to create roadmaps and forward-thinking solutions to prepare for similar difficulties in the future.
Steps to Hire Remote Developers in Germany
a. Identify Your Requirements
The first step in hiring remote developers is defining your project's specific needs. Consider the skills, experience, and expertise required for your project.
b. Research the Market
Conduct market research to understand the demand for developers in your niche. Identify your competitors and analyze their strategies.
c. Choose the Right Hiring Model
You can hire remote developers through various models, such as freelancers, remote teams, or outsourcing. Choose the one that aligns with your project's scope and budget.
d. Partner with a Recruitment Agency
Consider partnering with a reputable recruitment agency with experience in the German market. They can help you find suitable candidates quickly.
e. Legal Considerations
Ensure that you are compliant with German labor laws and regulations. Consult legal experts if necessary to avoid legal pitfalls.
f. Onboarding and Communication
Establish clear communication channels and onboarding processes to integrate remote developers seamlessly into your project.
Challenges Faced To Hire Remote Developers In Germany 
Despite the unique benefits of remote cooperation, everything is not always straightforward. For a variety of reasons, finding a remote developer and managing them can be difficult for startups and small and medium-sized businesses. Nevertheless, each of them is surmountable. The most essential thing in this situation is to be aware of potential difficulties with your search. 
Let's look at the most common challenges that might arise while assembling a successful remote development team.
It Is Challenging To Identify The Right Candidate 
The options offered by the Internet are many and simple to get lost in. You have access to millions of developers worldwide, but picking the best one is tricky. As soon as you submit a job ad, you'll start receiving several applications. And in order to recruit the ideal applicant, you will need to take into account all available options. 
Sorting, evaluating, and selecting the best CVs when there are thousands of them is a significant task. Therefore, it is important not to undervalue the importance of the issues of response verification, quality recognition, and candidate evaluation.
The Job Hiring Process Can Be A Bummer 
You need to handle the processing of job advertising in addition to creating and posting job advertisements if you want to discover and recruit a remote team of engineers. Additionally, it takes a lot of effort and resources to manage posting on several resources at once. You'll have to put a lot of effort into researching various employment sites, social media, and the voluminous applications and resumes you get. Additionally, it's not as simple as it may appear to write a job advertisement and choose a site for publishing. 
You must take your time and give the process of posting and maintaining job adverts significant attention if you want the best outcomes.
Language And Communication Barriers Can Be Hard To Tackle 
In 2022, linguistic difficulties will still be substantial. Language constraints severely restrict your options since it doesn't matter how talented remote devs are if they can't interact with the rest of your team. As a result, if the remote professionals you are thinking about do not speak English, it could be challenging for you to reach a shared understanding. 
While there are means for communicating in other languages today, efficient remote collaboration within a single project requires that all participants speak the same vocabulary. Keep in mind that effective team communication is essential.
Skills To Look For When Hiring Developers In Germany 
When a business employs a remote developer, it is likely to anticipate that person to possess the essential traits needed to finish the project effectively. Finding a remote programmer who is qualified and experienced is doable; the difficult part is determining which one is best for your development firm. 
It's critical to realize that neither the perfect applicant nor the ideal employer exists; rather, the recruiter's goal is to find and choose the most qualified professionals. This relates to both technical and professional competence as well as so-called soft attributes, which are more closely associated with individual traits. Additionally, there are certainly other aspects of teleworking that must be considered when it comes to remote workers.
What specific soft and hard talents should a recruiter look for when choosing remote devs, then?
Hard Skills
It should go without saying that the remote developer has to be an expert programmer. While not the only one, this serves as the foundation. A technical foundation is unquestionably necessary, but it is not sufficient on its own. 
As a result, typical expert traits, coding prowess, as well as theoretical understanding of the required technology and technique, are significant in terms of hard skills. It's important to check the possible employee's versatility in addition to their technical skills and professional experience. The evaluation of applicants' knowledge and an assessment of their technical abilities are the two main areas to concentrate on.
Now let's confirm that, while hard skills are important, they should not be the only factors considered when choosing a remote developer. 
Additionally, if you have to pick between multiple candidates whose hard talents are nearly identical, choose someone with more advanced soft skills, particularly if we are discussing distant cooperation. And here is why.
Soft Skills 
When employing remote professionals, a robust set of soft skills is just as crucial. This is the precise factor that distinguishes a strong applicant. 
The development process can be drawn out and tedious; it may need tight teamwork, plenty of attention to detail, and regular client interaction. Not everybody is suited for this kind of profession, regardless of how skilled they are at programming. After all, developing personal skills isn't any more straightforward than learning a new programming language. 
Here are some soft skills you need to look for to hire remote developers in Germany: 
Time management 

Problem-solving

Self-motivation 

Teamworking 

Communication skills

Work-life balance 

Discipline 
Cost of Hiring Remote Developers in Germany
Hourly Rates
The cost of hiring remote developers in Germany can vary based on factors such as experience, skillset, and the complexity of the project. On average, you can expect hourly rates to range from $40 to $100, making it an attractive option compared to hiring in-house developers in countries with higher labor costs.
Project-Based Pricing
Many German developers offer project-based pricing, which can be a cost-effective option for businesses with well-defined project scopes.
Taxes and Benefits
When hiring remote developers in Germany, you won't have to worry about payroll taxes and employee benefits, as they are responsible for their own taxes and insurance.
How To Hire Remote Developers In Germany? 

You will begin receiving applications and answers from remote experts once you have built your job ad and posted it on the developer recruiting sites. The next step is to choose the top candidates. Selection is based on an evaluation of business needs that may include adding team members, hiring a competent developer, a specialist with a unique tech stack, a person with the required skill level, a person with the desired domain expertise, staffing by a vendor with steady growth, etc. What matters is what your goals are. 
Therefore, you must do multiple phases of selection, conduct screenings, and interviews, and analyze possible employees in accordance with various criteria in order to choose a remote programmer who will fully satisfy your company's demands. 
First things first, though.
Initial Screening 
The first interview with each candidate should be conducted through video call once you have sorted candidates and pre-selected potential hires. The goal at this point is to learn about the person, their cultural background, their personal beliefs, and their ethical convictions. Find out what benefits this specialist may provide your team. 
In other words, the developer's soft qualities—whose significance we already discussed—are evaluated at the initial screening. Ask the right questions to determine whether you can cooperate, whether this specialist can join your team, and whether they fit with the corporate culture.
Technical Screening 
A technical interview will be conducted after that. The developer's hard skills, real-world experience, portfolio, overcoming obstacles, theoretical understanding, professional competencies, and completed projects have previously been evaluated. You can determine how well a candidate's knowledge and abilities align with the requirements of your project, thanks to the technical screening. 
At this point, you may ask questions about the position and do a number of drills and tests to gauge the developer's performance in-depth. Such a strategy will provide a greater understanding of the expertise and abilities of remote programmers for hire. So, create a brief exam to assess the breadth of a candidate's technical experience and abilities, take a sample programming test, and do a pair programming session.
Final Round 
It's time for a final interview with the applicant who is the most outstanding fit for your project after a successful initial and technical screening. You must concur on your expectations, talk about remuneration and the job schedule, and accept other cooperation criteria during this interview.
Read Also: How to Find and Hire a Dedicated Remote Team?
Why Hire Remote Developers From India?
India is a popular destination for IT outsourcing because of the significant skill and experience that are offered at a competitive price. 
The following are some of the primary justifications why businesses pick India for software development projects: 
Talent Pool: India has a lot of talent, especially when it comes to programming. Professionals with BCA and BTech degrees, as well as postgraduates, can be found in particular computer science domains. In the nation, engineering and programming are in high demand.
Competitive Pricing: If you contrast the wages paid to American and Indian programmers, you can see that hiring foreign workers offers you a considerable chance to save money. Additionally, you often don't have to pay for office space and infrastructure when working with these offshore teams.
Continual Development: An Indian crew often works and is active throughout your night hours due to time zone variations. As a consequence, there are no delays in the ongoing development process. There's a good possibility you can reach a live developer if you need to handle your project after hours.

How Can GraffersID Help You Hire Right? 
It's true that remote working does have its own set of drawbacks. But we can help you overcome these. Helping you select from a broader talent pool, we assist you in keeping the cost to a minimum and hiring the best developers who are willing to collaborate with you in the long or short run.
Hire Remote Developers with GraffersID.
FAQs
Q1: How do I find reliable remote developers in Germany?
A1: You can start by exploring online platforms like GraffersID, and Upwork, where experienced developers are found.
Q2: What is the average response time of Indian remote developers?
A2: Indian developers are known for their punctuality. On average, you can expect quick response times and efficient communication.
Q3: Are there language barriers when working with Indian developers?
A3: Most Indian developers are proficient in English, minimizing language barriers and ensuring smooth collaboration.