User interface and visitor experience (UI UX) design are crucial in web development since it is one of the first things users see and interact with when they visit a website. It is necessary to develop user interfaces that are not just intuitive but also easy to use and aesthetically pleasing. Interfaces that are poorly designed can cause users to become frustrated, resulting in lost sales.
The user interface and user experience are equally essential since they can affect a website's entire user experience. A user's ability to navigate a website can be slowed down, and they may have a more challenging time finding what they are looking for if the menus and buttons are not well structured. Inadequately constructed forms can also result in the loss of data or the introduction of errors during the data entry process.
Because it can affect the company's bottom line, UI/UX design is very significant. A poorly designed interface might result in lost sales and frustrated users. We can assist our visitors in navigating our websites and locating the information and items they are looking for by building interfaces that are simple to use and visually appealing.
A Primer on Information Technology
People frequently get web development, web design, user interface design, and user experience design confused. See the glossary entries below for a clearer picture of the differences between the two.
Web development
Web development is the term used to describe all of the work done behind the scenes to ensure that a website functions correctly, loads quickly, and performs well in general.
Web design
Web design is an overarching term for developing and maintaining websites and encompasses various subfields and abilities. Web design includes many disciplines, including user interface (UI) design, user experience (UX) design, and others.
User Interface (UI)
User Interface design development improves a user's interaction with a website or app to make it as efficient and reliable as possible. The "User Interface" is the name for this part 
User experience
User experience, often known as UX, refers to creating and enhancing the quality of the knowledge that users have whenever they interact with a website or mobile application. A website's user experience (UX) can determine whether or not the website is successful.
UI/UX Design's Most Important Elements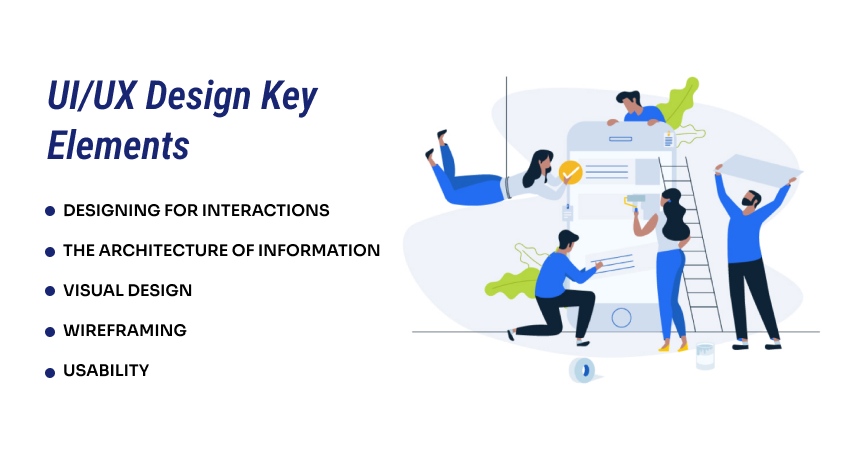 Find out what the most important aspects of UI and UX design are by reading on down below.
Designing for Interactions
IDX stands for interaction design, which refers to the process that groups go through to devise websites and applications that offer visitors experiences that are pertinent and important to them as users. It involves including several aspects, such as typeface, music, colors, images, aesthetics, and more, in your website or application. To construct websites that are valuable to users, design is critical; we will go into more detail about this topic later.
The Architecture of Information
The process of determining how to organize the many components of something in a way that makes it easy to comprehend is called "information architecture." The user experience (UX) construction outlines how the material on your website will be layered and organized.
Visual Design
The term "visual design" refers, as its name suggests, to how the website's visuals appear to visitors. Its purpose is to enhance the visual attractiveness and usability of the website or application. In most cases, the emphasis is placed on aspects of website design such as white space, photos, videos, typography, color, and iconography seen on the website.
Wireframing
Wireframing is a term used to describe the process of designing the structural components of a website. Before your website is made public, you can use it to evaluate its functionality, look, usability, and features using the staging environment.
Usability
When referring to a website, "usability" refers to how user-friendly the webpage is for the people who frequent it. A website is said to have strong usability if it prioritizes essential components of the user interface. These factors include a practical design, a fast load time, simple operations, a unique style, and easy navigation, among other things.
Metrics to Assess the Quality of the User Experience (UX)
Let's have a look at some of the basic parameters that are used when evaluating a user's experience with a product before we discuss the primary reasons why UI/UX is essential during the app development process:
Metrics of the Users:
The Rate of Adoptions

The Retention Rate

The Rate of Conversion
Metrics Regarding Usability:
The proportion of Completed Tasks

Task Time

The rate with which mistakes are made, and

The Rate of Giving Up
Metrics Relating to Attitudes and Behaviours:
Usability Rating of the System (SUS)

Questionnaire Concerning the Standardization of the User Experience for the Percentile Ranking (SUPR-Q)

Usability Metric for User Experience (UMUX) – focusing on effectiveness, efficiency, and overall satisfaction

Net Promoter Score (NPS), a metric used to evaluate customer commitment
You may also use the Technology Acceptance Model to evaluate the behavioral components of the user interface and user experience.
A sense of perceived usefulness can "improve their performance on the work."

The user's impression is that using the product requires little effort.
5 reasons why UI/UX is important to the success of any web development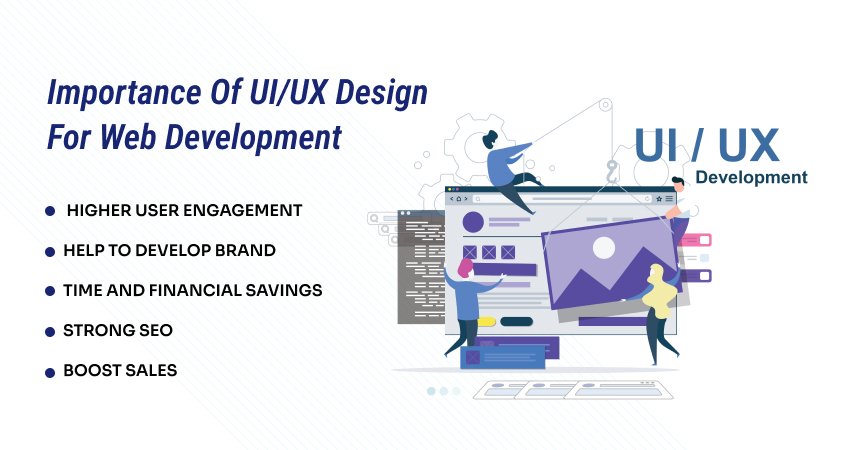 Understanding the significance of user interface and user experience design in the creation of a successful website
Now that we have that out of the way, let's discuss the importance of user interface and user experience design to the overall success of web development. Please take a moment to learn the top five reasons why it is significant.

It contributes to a higher user engagement on your website.
The incorporation of graphical components into a website is made possible thanks to the contributions of both the user interface and the user experience. These elements provide the website visitors with the ability to navigate through the web page. 
If the website's visitors do not find the page they are viewing to be fascinating and engaging, they will likely leave the website and go to one of its rivals instead. On the other hand, websites that are visually appealing and straightforward to browse are more likely to persuade users to spend more time on the site and investigate the products and services the business offers. 
In a nutshell, an effective UI/UX design results in increased user engagement, which in turn generates a more significant number of prospective leads, which ultimately increases income and increases brand awareness for your company.
It contributes to the development of your brand
Customers are more likely to be content and pleased with a website that strongly emphasizes user interface and user experience. People will always be more drawn to companies and brands that emphasize providing a positive experience for their customers. 
Additionally, if you let your consumers have their say and ask for their input on how to improve your website, you'll be able to pick up on any niggling problems they're having and fix them for the next time they visit. Increased reputation for your firm means more trust from satisfied customers. The long-term success of your company can be helped along in this regard.
It results in time and financial savings.
Suppose you invest once in your website's UX and design. You'll lower the probability that clients will submit formal complaints against you and the frequency of website upkeep and updates. Frequently updating your website takes time and resources. 
If you focus on efficient website construction from the start, you can save time, money, and effort to utilise elsewhere. Before starting a website, research user design and interface needs. If the problem arose after the product was released, the cost would be multiplied by ten, to a minimum of $100. User experience design can save money in product development.
An effective UI/UX design helps with search engine optimization
Website success depends on keyword rankings' design and SEO work hand in hand, and both are highly crucial factors in boosting a website's position in the search results displayed by Google. Providing information to consumers in a time-efficient and uncomplicated manner is the primary objective of the search engine. 
Search engines consider various data points to measure the level of user interaction. A fast page load speed, mobile responsiveness, and a user-friendly URL structure are all essential aspects of a robust user experience design. They all contribute to an efficient search engine optimization approach.
User experience design boosts the number of sales made on a website.
There is a large number of websites that all provide the same items and services. Customers are most likely to select a website because of its appealing appearance and user-friendly experience. 
According to the findings of a study, an improved user experience can increase conversion rates by up to 400%. Additionally, as noted earlier, accessibility and usability that have been adequately optimized can significantly impact the level of happiness experienced by customers. 
Furthermore, a website that emphasizes the significance of user interface and user experience design may also boost a user's propensity to explore the products offered on the website. It is why it's crucial to hire skilled UI/UX designers to grow your company and increase conversions.
Which of these two—UI or UX—is more important?
When designing websites and apps, user experience (UX) and user interface (UI) are both extremely important. As they contribute to the whole, neither one can be ignored in favor of the other. Developing a user interface without also developing the user experience (or vice versa) would result in the following issues:
A website that is simple to access but does not deliver a positive experience for its users through the usage of graphic components.

A website that is appealing to the eye and has high-quality images but does not load its pages quickly and does not have well-organized content.

To use a coin metaphor, user interface design and user experience architecture are opposite sides of the same coin. As a result, the two aspects have an exact amount of significance when it comes to the production of efficient websites.
An outline of Hire UI UX Remote Developers in the most basic form
Hire UI UX Remote Developers to create an intuitive design for your software, websites, and applications. Hire UI UX Remote Developers who provide a comprehensive range of wireframe design services and use the most up-to-date technologies and methods to produce online and mobile applications with beautiful branding. 
Employing user experience designers and user interface designers who are specialists in their fields will help you establish the tone of your brand and build the designs in a strategic way. Hire UI UX Remote Developers who create mockups for your websites or mobile apps according to your demands, considering every minuscule aspect, from color matching to brand identification.
Why is UI/UX Design so important for a business's growth In 2023?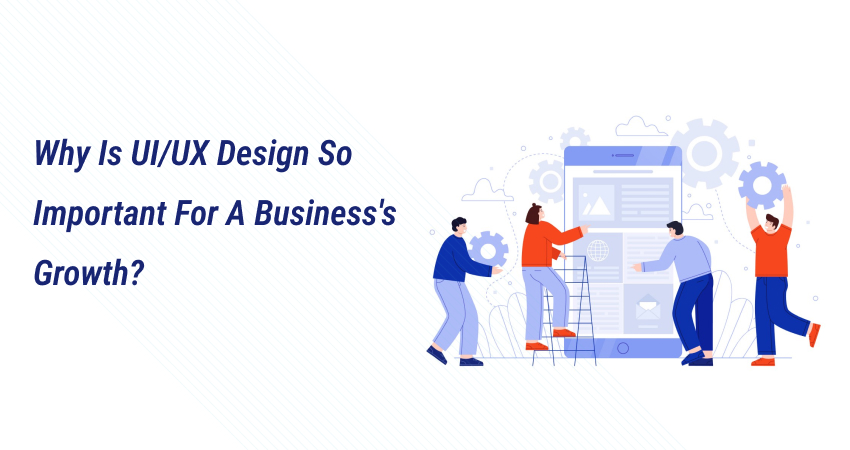 If you are in the process of developing a website for your company, one of your primary goals should undoubtedly be to boost customer participation, sales, and recognition of your brand. On the other hand, this can only be accomplished in its entirety if the users who visit your website have a pleasant experience overall. 
When it comes to the success of an online business, ensuring that the customers are happy is essential. Because there is a lot of competition in the internet market, your website must be noticeable. The user interface design of your website should be powerful enough to capture the interest of your customer and convince them to continue using your website. 
Consider this: if you were shopping for products and services online, which company's website would you choose: the one that has a user interface design that is helpful and allows you to find what you're looking for quickly, or the one that is unresponsive, difficult to use, and slows down the purchasing process.
What is offshore development?
An offshore development center is a company that offers software development services to its clients but is physically located in a different nation. This particular kind of business is considered a subsidiary of the primary firm you run. An offshore development center is a business that offers its services or products to customers in a different country. 
Although outsourcing is a service that provides specific services or goods from a third-party company, the physical location of the company providing those services or products may not be an essential consideration. The primary objective of the offshore development center is to assist in lowering the company's expenses by making use of the disparity in the cost of living between the two countries. 
Offshore development centers can offer various services, including the construction of a software development team according to your specifications, project-based development, testing services, and the establishment of an independent offshore development center for individual customers.

The advantages of the offshore development center
An offshore development center has the potential to deliver several valuable benefits. The following are some of the reasons for doing so:
Cost reduction: 
As was said earlier; this is possible since the offshore development center is frequently established in nations with lower living expenses than the nations where the headquarters are situated. They can either shift the primary focus to other aspects or use the cost disparity to lower fees regarding materials and labor while simultaneously growing sales.
Cheaper facilities
Establishing an offshore development center in a cheaper country benefits firms in terms of reputation and sales, as well as office rent, maintenance, and internet costs. Establishing an offshore development center in a much cheaper country's center of the economy is beneficial to businesses.
Extend your market to include a country in another region: 
Doing business in the marketplace of another nation is an excellent method to boost sales volume and reputation, as well as to get closer to clients and better understand the requirements they have. It not only allows you to be physically present in the target market, but it also helps cut down on the costs associated with logistics.
Large group with many different skills
:
If you want to set up a team with more than 50 people, suppliers can set up a separate office for your employee branding where all of your developers, project managers, quality assurance specialists, and marketing specialists will work together.
Access to the Talent Pool:
Having your firm located in a different country gives you access to the talent pool of that particular country, which can enrich your company's working culture and improve your general skills. When prospective employees learn that they would be working in the "office of a foreign corporation," they are more likely to accept the positions.
Improving Confidentiality:
The offshore development center is likely home to several teams concurrently working on several projects. It would help if you approached your offshore development center for a team office as soon as possible.
Localization of products 
An offshore development center is an excellent option to consider if you want to access the international market because it brings your company closer to a particular market but also assists in regionalizing your goods. If you wish to sell in Vietnam, locate your offshore development center there. Since all of your developers are Vietnamese nationals, they can contribute some ideas specific to the Vietnamese market that will help localize your product.
Conclusion
User interface and user experience are essential to the success of a website. Suppose you want to design your company's excellent, engaging, and helpful website. In that case, you must be aware of the significance of UI/UX design, as well as the function that it plays in the process of designing websites. 
Outsourcing UI/UX development to professionals is an excellent alternative for companies, as it helps ensure that the entire development process is carried out without any hiccups. Get in touch with us for the best UI/UX design services from GraffersID to produce inspiring digital experiences for billions of users.